Bread maker machines are one of the best appliances that you can have at home. They help you to make freshly baked bread every time. Besides this, you get to control what ingredients are used for making it. Thus, you don't have to rely anymore on store-bought bread and also specialty bread such as those made of multigrain, or those which are free from gluten. Let us see some of the best bread-making machines in the next section.
Best Bread Maker Machine In India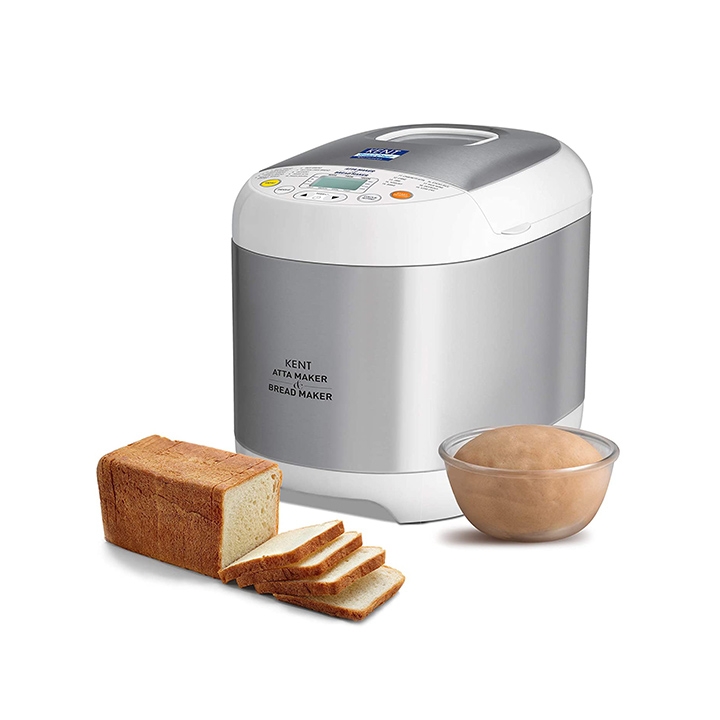 KENT – 16010 Atta and Bread Maker is a fully automatic device in which you need to choose a program and everything else will be done by the device.
With it, you don't have to use your bare hands anymore. Just add the ingredients and water and the appliance will hygienically prepare the dough.
Specifications:
Brand: KENT
Color: Steel Grey
Item Weight: 11 Kilograms
Material: Other Material
Wattage: 550 Watts
Item Dimensions LxWxH: 36 x 24.5 x 30 Centimeters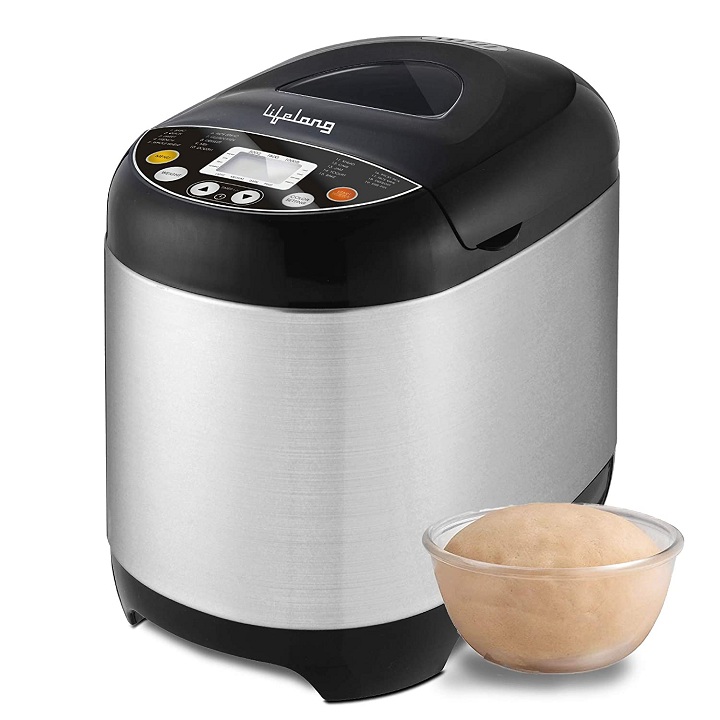 Lifelong Atta and Bread Maker is used for making puris and chapatis easily without the use of bare hands for kneading the dough.
You can use all the healthy ingredients to make the dishes with the least expense, hence your dependency on store-bought bread reduces.
It comes with a 5-Hour programmable timer delay so that you can have freshly baked bread after waking up or at any time.
Specifications:
Brand: Lifelong
Voltage: 240 Volts
Color: Black
Item Weight: 5.2 Kilograms
Material: Stainless Steel
Wattage: 550 Watts
Item Dimensions LxWxH: 35.5 x 24 x 30.2 Centimeters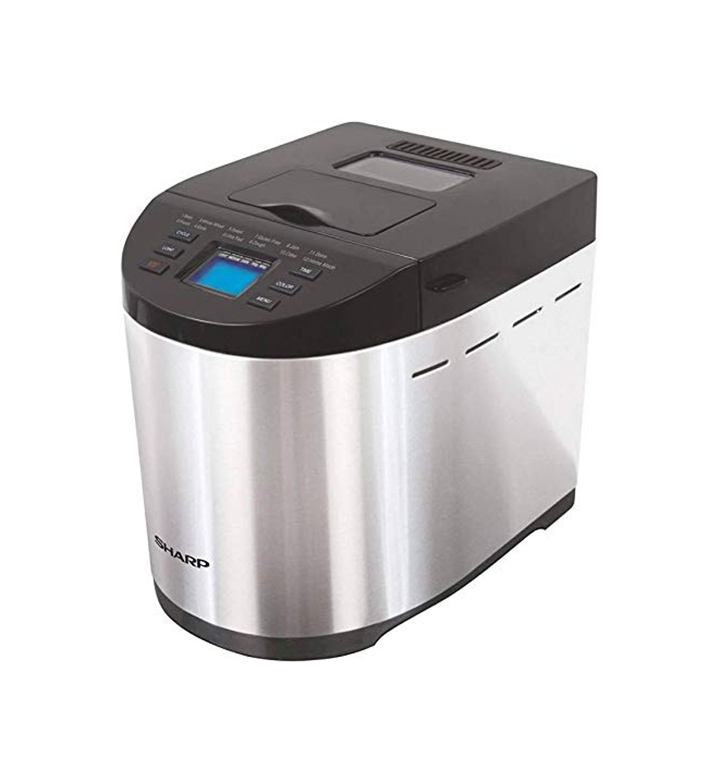 Sharp Table-Top Bread Maker is an amazing device that lets you try the bread with various ingredients so that you don't have to look out for shops for healthier versions of bread.
There are 12 programmed menus to cater to the requirements of all your family members without much effort.
It has a sleek design that is easy to store.
Specifications:
Brand: Sharp
Color: BLACK
Material: Aluminum
Wattage: 600 Watts
Package Dimensions: 42.29 x 39.7 x 33.6 cm
Item Weight: 7 kg 730 g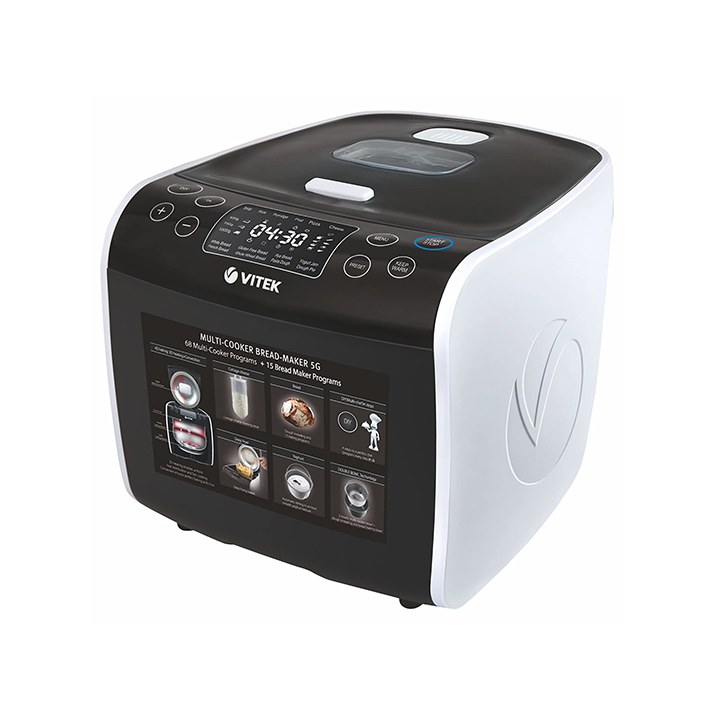 VITEK VT-4209 BW-I is a smart cooking appliance with 5 programs for making dough for bread.
You can use it for sauteing, sewing, deep-frying, steaming, boiling, and baking.
You can even make jam, cake, pie, yogurt or simply knead atta with it.
Specifications:
Brand: VITEK
Capacity: 5 liters
Warranty: 2 year warranty
Power: 1700 watts
Operating Voltage: 220 – 240 volts
Item Weight: 7 kg 700 g
Item Dimensions LxWxH: 27 x 28 x 35.5 Centimeters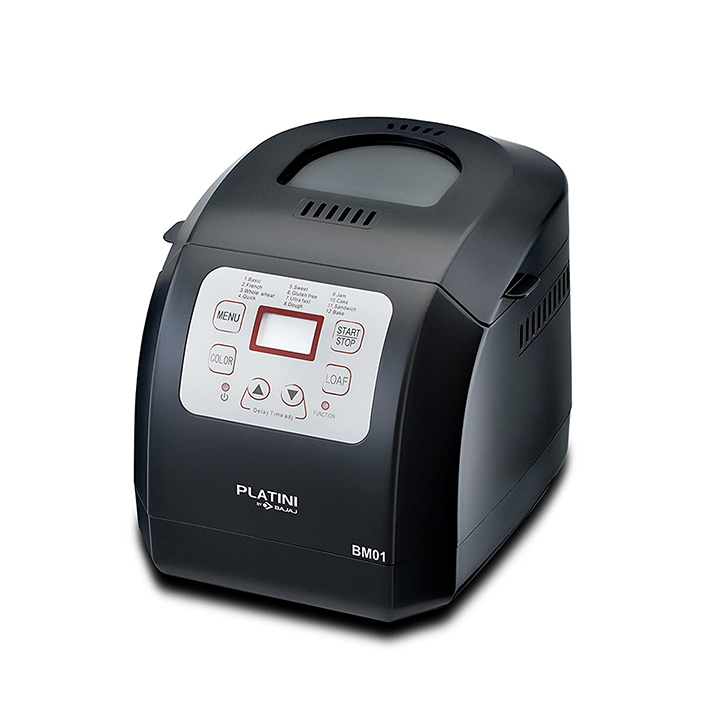 Bajaj Platini BM01 bread maker is a user-friendly device that comes with a soft touch panel and LCD.
There are handles on the sides for conveniently lifting it.
It comes with 12 menu options for preparing cake and jam besides bread.
It has a 13-hour delay timer, thus you can have fresh bread any time you want with the least effort.
Specifications:
Brand: Bajaj Platini
Color: Black and Grey
Item Weight: 3.75 Kilograms
Material: Acrylonitrile Butadiene Styrene
Wattage: 550 Watts
Item Dimensions LxWxH: 39 x 31.4 x 32.6 Centimeters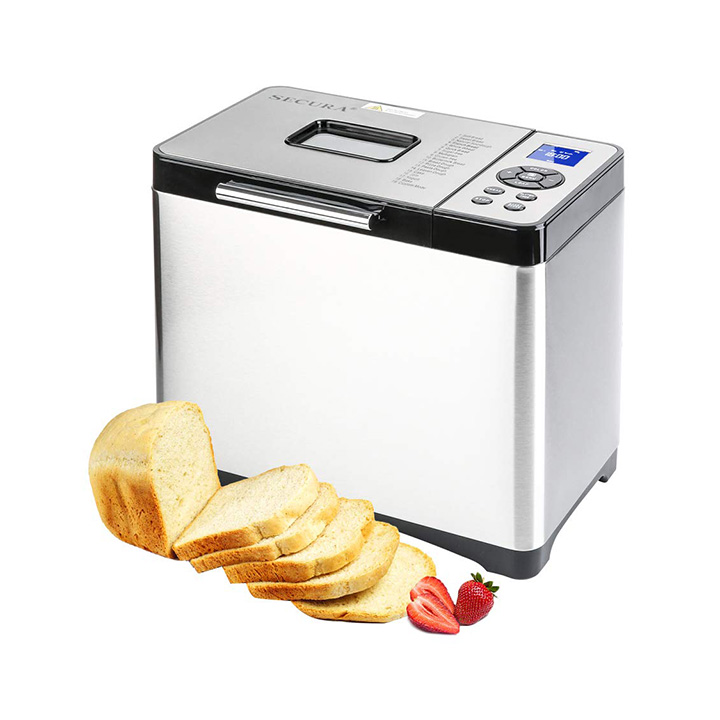 Secura MBF-016 MBG-016 bread maker is a multifunctional device made up of stainless steel body.
You can make fresh bread with your favorite ingredients to have healthy food for your family members.
Specifications:
Brand: Secura
Item Weight: 6 kg 170 g
Package Dimensions: 40.64 x 40.64 x 30.48 cm
Item model number: MBF-016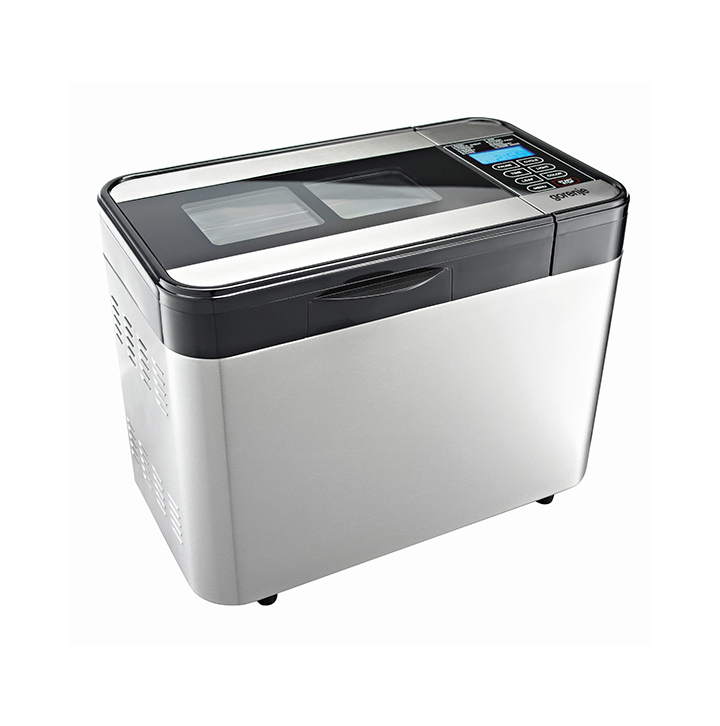 Gorenje Bread Maker has a durable metallic body.
There are 12 preset menus to try various recipes.
Operational control is ensured through audible signals.
You get a choice to select the type of crust.
Specifications:
Brand: Gorenje
Color: Silver
Item Weight: 8.8 Kilograms
Material: Metal
Wattage: 815 Watts
Item Dimensions LxWxH: 27 x 40 x 30.5 Centimetres
Number Of Programs: 12
Bread Maker Machine Buying Guide
Here are some factors you can look out for in a bread-making machine while buying one:
1. Type of kneading paddle:
An ideal bread maker should have at least one kneading paddle, one of which can be used for making pasta. Check if the kneading paddle can be removed after the kneading cycle to avoid a hole in the loaf at the end of the baking cycle. Some machines give a notification for the removal of the paddles prior to entering the baking cycle.
2. Noise:
The noise level of different machines varies. The flimsier ones make more noise compared to the high-end sturdy models. The flimsy machines might even move during operation and fall off from the kitchen countertop. So, it is better to invest in a high-end model.
3. Alarm:
This is an important feature that helps you to know the right time for adding ingredients like dry fruits and nuts to your bread dough because if these are added initially, everything will be crushed during the mixing cycle. Besides this, you also get an alert when the bread is ready.
4. Delayed timer:
This feature lets you set a time for when you want to start baking. For example, if you are going to bed, you can add all ingredients and set a timer at the time when you will wake up so you can have freshly baked bread.
5. Programmable options:
These let you control the color of your bread crust, simply kneading the dough with no baking, duration for which you want it to rise, just bake, and similar functionalities. Higher-end models usually have these options to enable complete control.
6. Microprocessors:
The latest models tend to have these, which ensure even cooking and delicious taste unlike the devices with simple heating elements.
7. Transparent lid:
A transparent viewing window or lid helps in monitoring the bread while it is getting baked.
8. Size of the device:
Depending on the number of members in your family, you can decide the size of the device you buy. Some devices come with multiple size options so that you can bake as per the number of available people.
Besides this, consider the kitchen space too while getting a bigger one. For smaller kitchens, compact models are easy to store.
9. Other features:
Sometimes a feature-loaded bread-making machine can be used for making pasta, sourdough, pizza dough, jam, gluten-free bread, and other delicious items. If you have such a requirement, then check out for the additional features before purchasing one.
Final Words:
Now when you know all aspects of the bread-making machine, you can set your budget and get the best one with the required features to have freshly baked bread at the comfort of your home. Follow our buying guide and listed out products before purchasing for a great experience.
Frequently Asked Questions (FAQs)
Q. What type of kneading blades can produce the best results?
Ans: Those devices with two kneading blades can produce the best results. Horizontal loaves can be produced in such a scenario with proper kneading of the dough.
Q. Is it needed to grease the bread-making pan?
Ans: Yes, this is important to easily remove the baked loaf from the pan. Any cooking oil or butter can be used for this purpose.
Q. How to clean a bread-making machine?
Ans: Cleaning a bread-making machine is very important after every use. For this, let it cool completely and then unplug it before removing the bread pan and mixing paddles. These parts can be either washed in hands or dishwashers. Avoid submerging the whole machine in water as it can cause damage. Any left behind residues in the machine can be wiped away with a clean cloth or just brushed away.
Q. What is the duration for which homemade bread can be stored?
Ans: These can be stored for 2-4 days at room temperature.
Q. Is it okay to freeze the homemade bread?
Ans: Yes, once the bread loaves are cooled completely, these can be wrapped and stored in an air-tight freezer bag for about 3 months. It is a good practice to mark the date on the package before freezing them. If you want to vacuum seal it, then first freeze it before sealing so that it won't get crushed.
Recommended Articles:
Related Posts: