Increasing air pollution is a serious concern for everyone, especially with people already having breathing issues. Even healthy people get sick by inhaling polluted air. This makes it important to have an air purifier at home. We will see some of the best air purifiers, in this article, that are available online.
Why do we need an air purifier inside the home?
Pollution is not just limited to outside where a lot of vehicles run. Inside home also we have certain kinds of pollutants that are harmful to our health. For example, the talcum powder, deo, incense sticks, insect repellents, toilet cleaners, detergents which we use have certain chemicals that must not be inhaled, but we do. Even the AC and refrigerators emit harmful gases. Here are some other common pollutant sources:
1. Airborne Particulate Matter:
Dust mites, molds, fungi, spores, animal dander, pollen among others come under this category and are of the size 0.04 microns to 100 microns. These can be dealt with using an air purifier with a HEPA filter.
2. Smoke from Tobacco
3. Household Gases:
Aerosol spray, chemical cleaning agents, pesticides, constitute then household gases. Activated carbon filters are necessary to tackle them.
4. Volatile Organic Compounds or VOC:
Its sources are varnish, paints, glue, adhesives, which release ethylene, formaldehyde, benzene, and toluene which have a severe impact on health.
The advanced air purifiers use technologies which help in getting rid of all the above pollutants, thus ensuring a healthy life. Therefore, you must have a device in your home.
7 Best Air Purifiers in India
1. Dyson TP03 Pure Cool Link Tower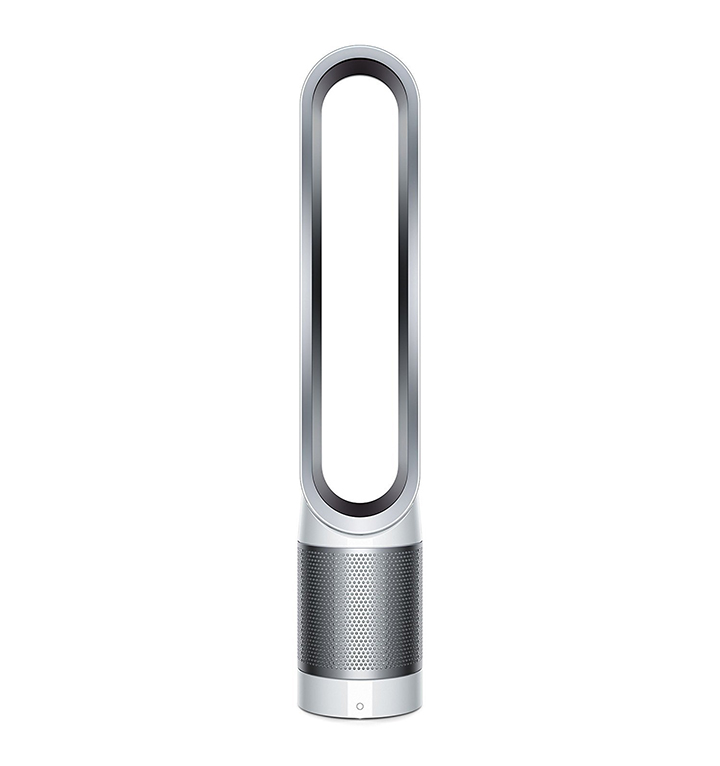 This is a classy silver color air purifier that has advanced sensors. It provides real-time reports of the air quality and is efficient in removing pollutants along with other harmful pollutants from the air. Thus you can breathe clean and pure air.
Features:
Wifi-enabled.

99.5% allergens are removed along with particulate matter as small as 0.1 microns.

Air Multiplier technology which ensures air circulation throughout the room.

Scheduling can be easily done.

Has different modes such as auto mode, night mode, and sleep timer.

AAFA (Asthma and Allergy Foundation of America)certified.

Face velocity is less compared to other conventional air purifiers.

It can be placed at any place because of the 360° air-intake.
Rating: 4/5
2. Honeywell Air Touch i8 Air Purifier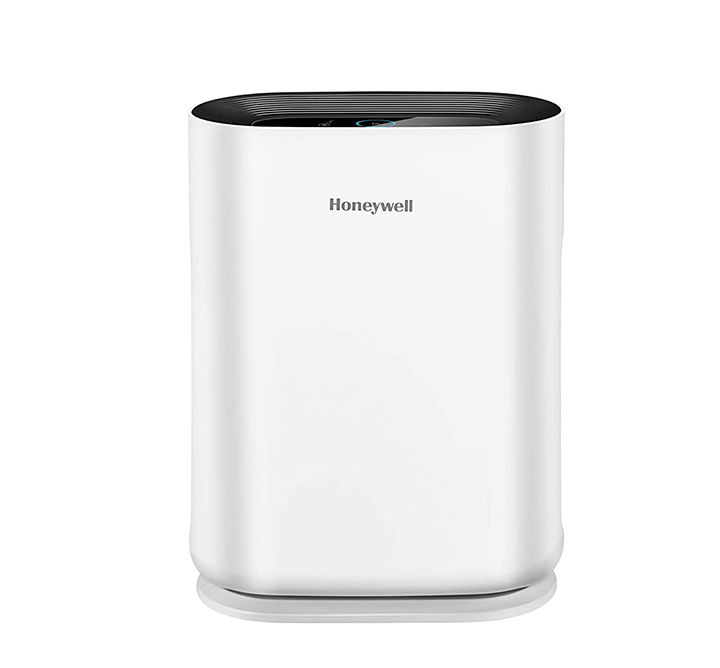 This is an efficient air purifier with good coverage, perfect for the living area and bedroom of about 30 sq. m area having a height of 2.74 m.
Features:
Filtration system is of 3 stages for removing pollutants 99% efficiently.
250 cubic m/hr is its Clean Air Delivery Rate(CADR).
42-watt power.
Allergens above 0.3 microns and 2.5 P.M along with pollens and toxic gases are removed with the help of activated carbon filter.
There is no release of harmful byproducts that might affect the ozone layer.
The filter has 3000 hours of life, so with regular usage of 8 hours a day, it will last for a year.
1-year warranty.
Rating: 4/5
3. Coway Sleek Pro AP-1009 Air Purifier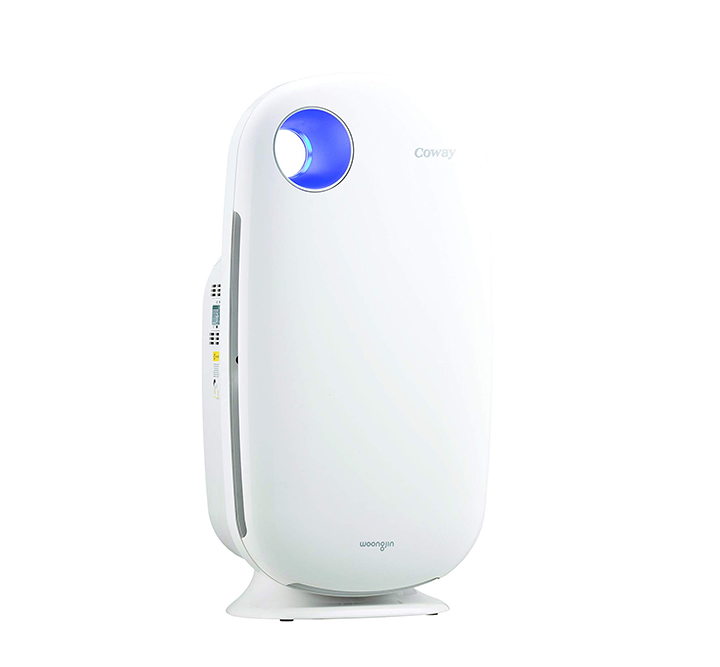 This is a Korean air purifier with a sleek design that has won the Reddot Design Award. It is most suitable for small offices or bedrooms. The efficient design of the devices ensures maximum airflow despite the slim design.
Features:
Can cover 355 sq. ft area.
Uses Urethane Carbon Filter and Green Anti-flu HEPA Technology which is multilayered to trap particles of 2.5PM.
303 cubic m/hr is its Clean Air Delivery Rate.
5-year warranty on the motor and 1-year warranty on other electrical parts.
Power consumption is 38 watts.
Indicates air quality on a real-time basis.
Rating: 4.5/5
4. Philips AC2887 Air Purifier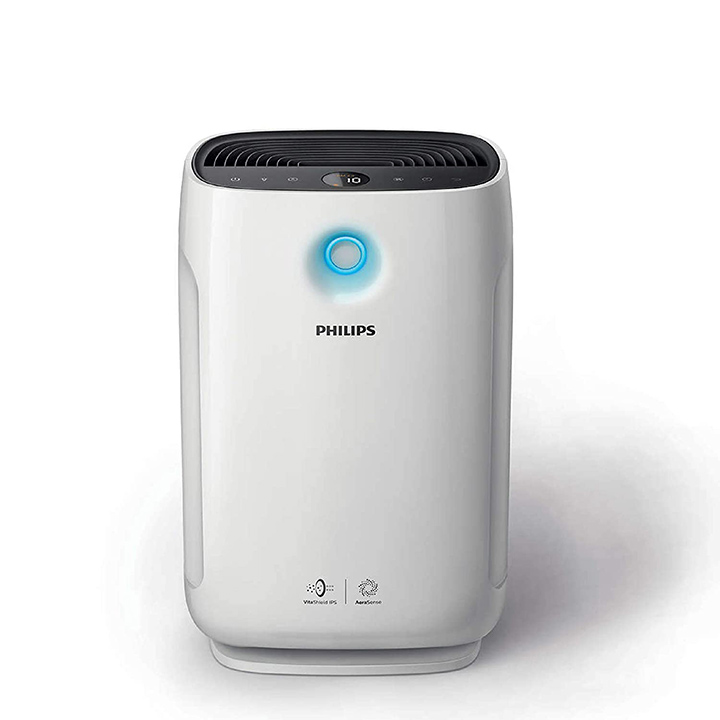 This air purifier is extremely potential in removing 99.97% pollutants in the air and can be installed in the master bedroom. It lets you personalize and optimize air purification in a room through various setting modes available.
Features:
Efficient in removing the H1N1 virus by 99.9 % efficiency with pollen as well as house dust mites.
TVOCs and harmful formaldehyde gases and similar toxic gases are also removed by its filters.
Suitable for areas of 269-409 sq ft. size.
2 years international warranty.
Aerodynamic design and NanoProtect Filter of the Vitashield IPS results in a CADR is 333 cubic meter/hour.
Purifies a standard 18 ft x 12 ft room and 8 ft height in just 10 minutes.
There are 3 settings for automatic purification-general mode and extra-sensitive Allergen mode and a mode for strong bacteria and virus mode.
Rating: 4.5/5
5. Dyson DP04 Pure Cool Air Purifier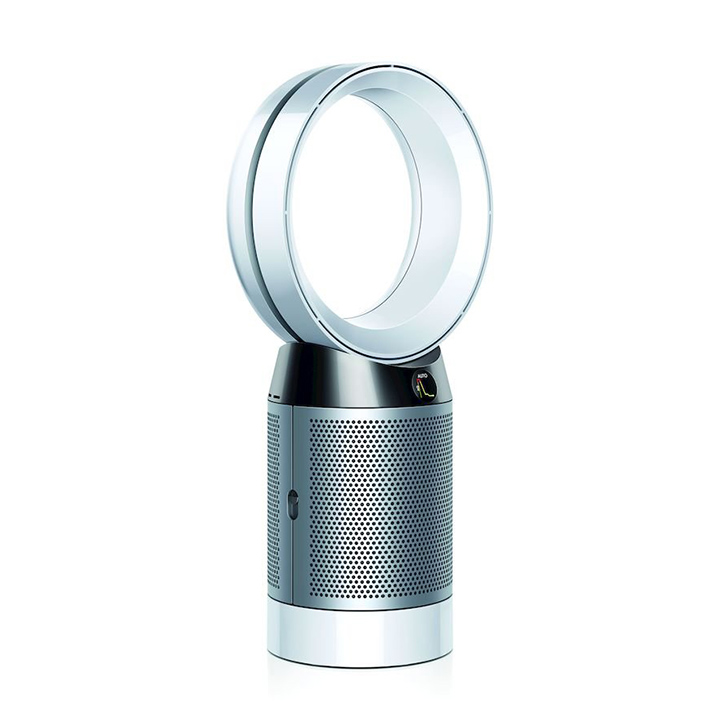 This is an air purifier with advanced technology. It is available in white/ silver color and has a classy look and is best for small-sized rooms. The appliance comes with an amazing magnetized remote control that can be easily stored at the machine's top. You can see the air quality index on the screen for 24 hours.
Features:
Energy-efficient and consumes 40W even at maximum settings.
Air Multiplier technology to project 360 liters of pure air in the room every second.
Pollutants and allergens of PM as small as 0.1 are captured efficiently by the 360 degrees Glass HEPA Filter along with Tris Impregnated Activated Carbon Filter.
It has a feature of personalized angle that can be controlled using the Dyson Link App and 250-degree oscillation that results in proper air circulation throughout the room.
It can cover a 450 sq foot area.
2-year warranty.
LCD screen for displaying the level of air quality i.e PM 2.5, PM 10, VOC, NO2, and overall quality of air as well.
AAFA(Asthma and Allergy Foundation of America) certified.
Silent operation with a dimmed display at night.
Rating: 4.1/5
6. Dyson HP04 Pure Hot+Cool Air Purifier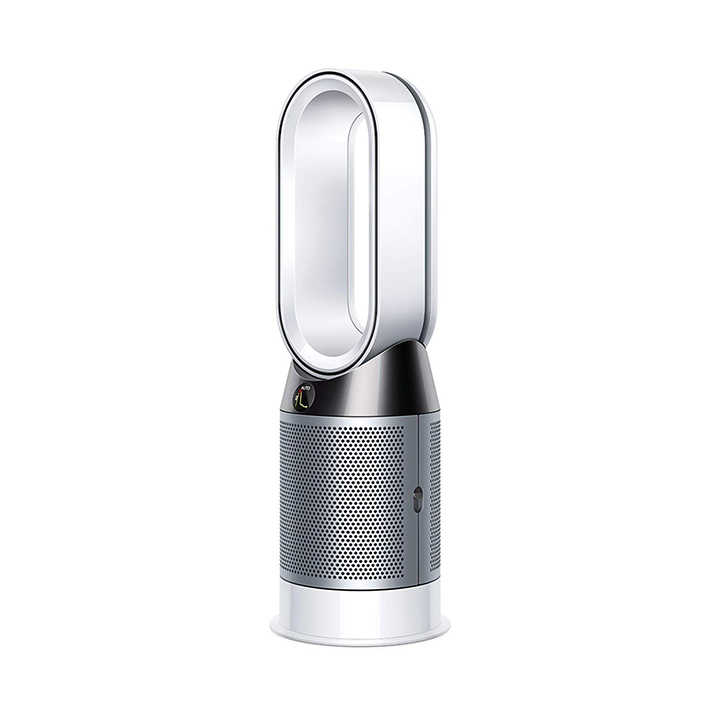 This is an elegant air purifier with advanced technology. The best part is that it comes with an inbuilt heater, that can keep you warm in the cold winters besides cleaning the air. You can pair the device through Wifi connectivity or Bluetooth for controlling it easily. Even a magnetic remote control is available that attaches itself to the device top. It is a certified device to be suitable for people with asthma and allergy.
Features:
Removes 99.5 % harmful components from the air of size as small as 0.1 microns, through the use of sealed HEPA filters.
Air Multiplier technology for projecting purified air and personalized angle adjustment feature with 350-degree oscillation.
Gases are removed through the use of activated carbon filters.
40 Watt power consumption.
Can cover areas up to 600 sq.ft
A bladeless fan ensures cool summers.
2-year warranty.
Gases, odors, and VOCs are removed through the use of a Tris-impregnated activated carbon filter.
Rating: 4.2/5
7. TruSens Z-1000 Air Purifier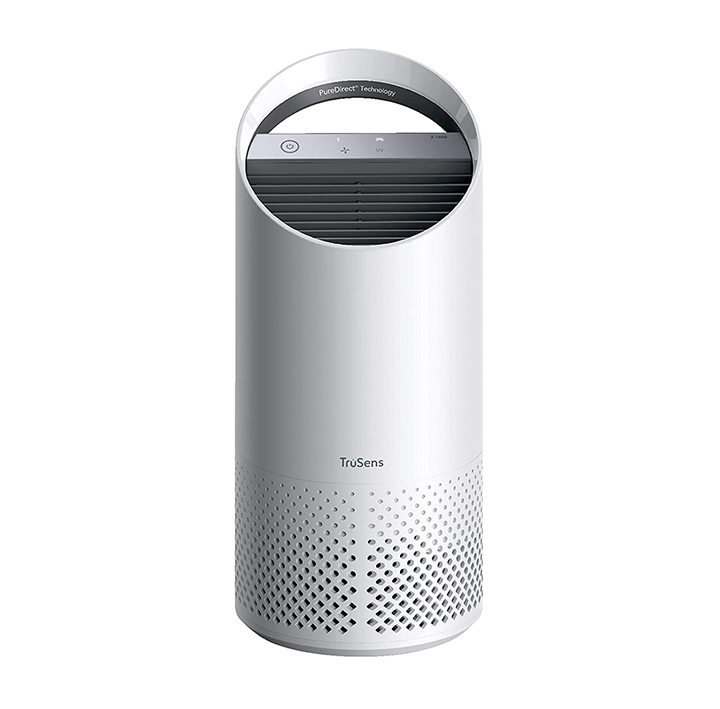 TruSens is an amazing affordable air purifier from the USA. It was awarded the Red Dot Award for its unique design. It has 4 level purification to ensure the best quality air in the room.
Features:
It uses 360 degrees HEPA Filtration with Dupont Filter for removing odors, gases, and microscopic particles.
Touch controls for various important functions such as the speed of the fan, auto timer, UV mode, and indicator for replacing the filter.
Use of separate airflow steams for maximum air circulation.
It has a carry handle for easily moving it from one room to another.
2-year warranty.
Rating: 4/5
Air Purifiers Buying Guide India – How to Buy the Right Air Purifiers?
Here are some of the important factors that should be considered before purchasing an air purifier:
1. Clean Air Delivery Rate (CADR):
It is the Clean Air Delivery Rate. This factor determines the time needed for an air purifier to work. It is measured in cubic feet air in a minute, which implies the amount of air purified in this duration. The CADR varies for various types of pollutants such as smoke, dust, and pollen.
2. High-Efficiency Particulate Arrestance (HEPA):
When we refer a filter as HEPA, it implies that dust and dirt can be trapped by them, based on the particle size. All ideal air purifiers have this filter to function efficiently.
Other than this, there are air purifies with activated carbon filters, pre-filters, ion, and ozone generators, all of which are explained below:
i. Pre-Filters:
It forms the initial resisting line for impurities and is generally found in AC units. the material used in these filters include some polyester material that is non-woven or foam material.
ii. Activated Carbon Filters:
They are best for VOC elimination and make a room free from any kind of odor. An air purifier with a larger carbon filter is known to perform much better. It needs to be replaced when it gets filled up with impurities.
iii. Ion and Ozone Generators:
Charged particles are emitted into the air by the ion generators, which then gets attached to impurities and fall on to the ground because of an increase in weight. The same is the case with ozone generators but you should know that inhaling ozone is neither good for health nor good for the environment.
3. Area of Coverage:
It indicates the area of the room whose air can be easily cleaned by the appliance. If you have a bigger room, select the device accordingly for better results.
4. ACH Ratings (Air Change Per Hour):
This figure denotes the number of times an air purifier exchanges the entire air in a room.
5. Cost:
There are expensive models of air purifiers but they have many features too which makes the investment worth it. Based on your need and budget, decide the best device for your home or office.
Besides the initial price, check the cost of annual filter replacement too
6. Energy Rating:
The BEE rating indicates the energy consumption of the device. One with a higher rating is preferred as you will have fewer electricity bills.
7. Noise:
Generally, fan speed leads to noise but certain devices are built to ensure noiseless operation. This is important to make sure that you sleep peacefully at night.
8. Additional Features:
This includes different speed control of fan, heating and cooling option, voice control, remote control, control through App, and wifi connectivity, an indicator to replace the filter, LED display for AQI, and various modes such as night mode among others. A smart featured device will cost a little more but you will have an amazing experience in operating it.
It is essential to know the basics of an air purifier before getting one. If you are living in a highly polluted area, this will be a good investment since it will save you from various breathing issues in the long run.
Frequently Asked Questions (FAQs)
Q. How frequently need to change the filter of an air purifier?
Ans: This will depend on the air quality in your home and surrounding. In the case of the worst air quality, the replacement needs to be done more often. Make sure to replace it on time so that you can enjoy better functionality for years.
In case your device doesn't have an alarm to indicate filter replacement need, enter into AMC with the manufacturer so that they can do it annually.
Q. Is it possible to reduce noise from an air purifier?
Ans: The fan in air purifiers generally produces noise, especially at higher speeds. Smart air purifiers with the latest technology have sensors built in them to identify the impurity level and change the speed of the fan accordingly. Even at night time, you can choose the night mode for silent operation and have a comfortable sleep.
Q. Is HEPA filter only enough in an air purifier?
Ans: The HEPA filter is highly efficient in removing 99.9% impurities of PM2.5. But generally, you will find other filters also equipped for better functionality. This includes pre-filter, activated carbon filter, and even UV methods for killing germs.
Recommended Articles:
Related Posts: