Kadhai is a deep frying pan suitable for Indian cooking. They have a thick base and walls to ensure that the dishes are cooked at the perfect temperature. It is also used by countries in various parts of the world to deep fry items like making crispy potato wedges. In India, they are used for making pooris, pakoras, jalebis, and many other delicious items. These are available in different materials such as aluminum, cast iron, steel, and other metals too. Let us see some of the best kadhais and cover their various aspects in this article.
Top 10 Best Kadai in India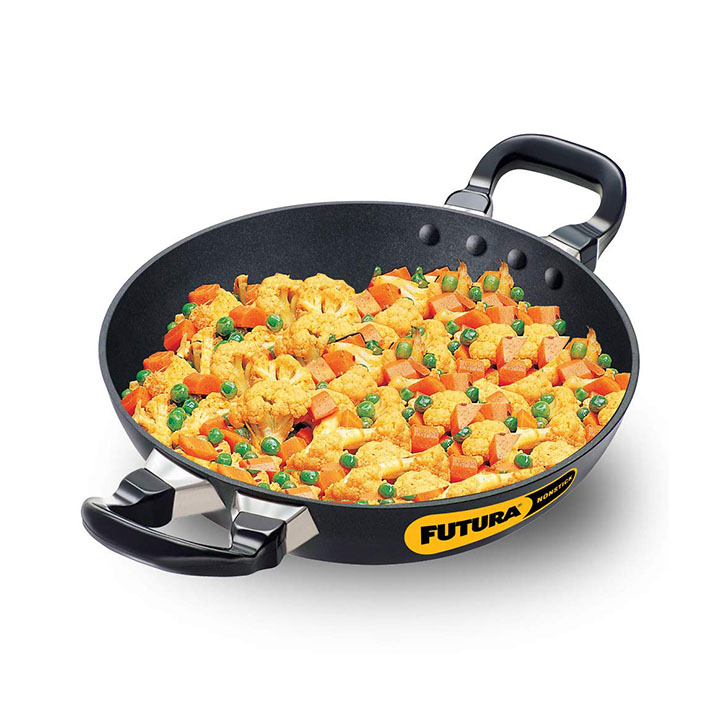 Hawkins Futura deep fry pan is made using a patented process and has a non stick layer.
Conducts heat quickly.
Well riveted handles for sturdiness.
Specifications:
Brand: Hawkins
Material: Nonstick
Item Diameter: 22 Centimetres
Color: Black
Item Dimensions LxWxH: 29.5 x 28.8 x 9.7 Centimetres
Capacity: 1.5 litres
Has Nonstick Coating: Yes
Item Weight: 1 kg 90 g
Warranty: 2 Years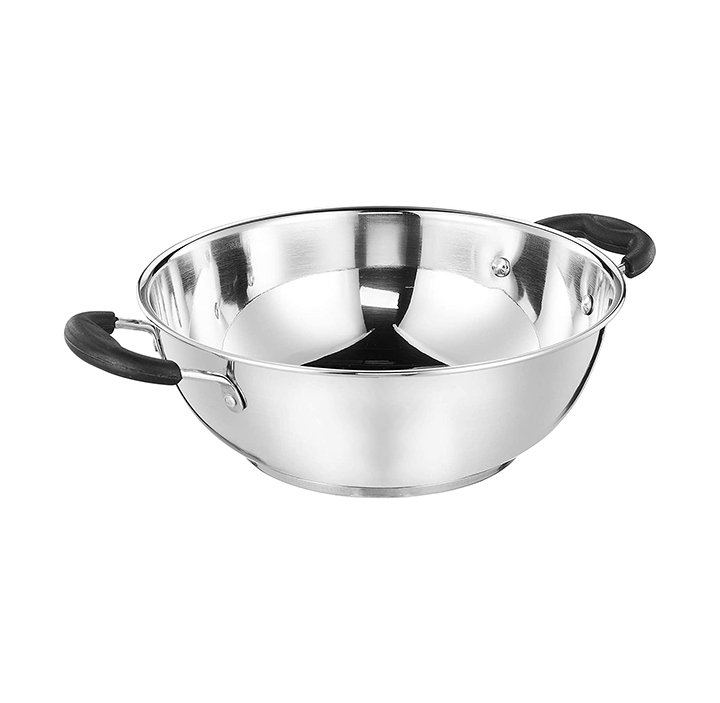 Amazon Brand – Solimo kadhai is made using 100% stainless steel of food grade quality.
Double riveted handles with bakelite covering for safety.
Specifications:
Brand: Amazon Brand – Solimo
Material: Stainless Steel
Package Dimensions: 30 x 25.8 x 11.4 cm; 1.04 Kilograms
Color: Silver
Capacity: 3 litres
Item Weight: 1 kg 40 g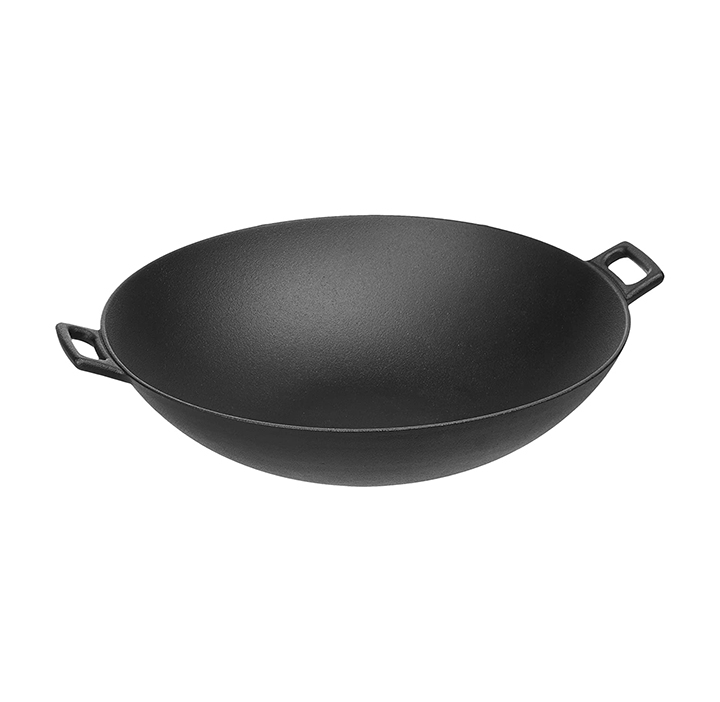 AmazonBasics cast iron wok pan is one of the healthiest options for deep frying pans which you must have at home.
It can be used for baking, roasting, sir frying and deep frying.
You can use it in an oven upto 500 degrees F.
Specifications:
Brand: AmazonBasics
Material: Others
Color: Others
Item Dimensions LxWxH: 43.7 x 37.3 x 10.8 Centimetres
Has Nonstick Coating: Yes
Is Oven Safe: Yes
Is Dishwasher Safe: No
Item Weight: 3 kg 860 g
Warranty: 1 Year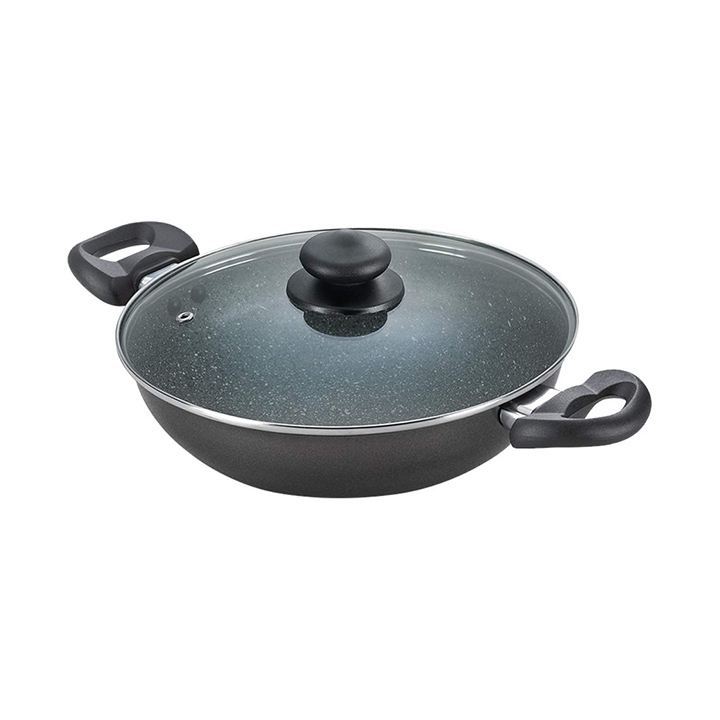 Prestige Omega Deluxe Kadai has a granite finish which is quite durable.
It has a 5 layer non-stick surface that is durable and needs less oil for cooking.
Specifications:
Brand: Prestige
Model Name: 36311
Material: Aluminium, Non-Stick
Color: Black
Item Dimensions LxWxH: 37 x 31 x 13 Centimetres
Capacity: 3.25 litres
Has Nonstick Coating: Yes
Item Weight: 1 kg 900 g
Warranty: 2 Years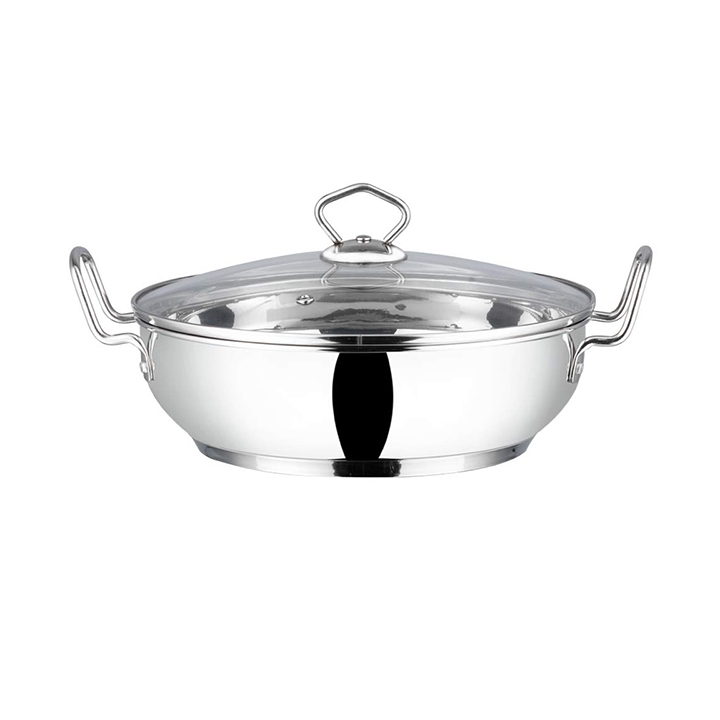 Vinod Kadai is made with stainless steel and comes with a tempered glass lid having a vent for releasing steam.
It has impact bonded 5mm aluminum core for even distribution of heat.
Riveted handles do not break easily and hence ensure safety.
Specifications:
Brand: Vinod
Material: Stainless Steel
Item Diameter: 24 Centimetres
Color: Silver
Item Dimensions LxWxH: 20 x 18 x 9 Centimetres
Capacity: 3.4 litres
Warranty: 24 Months
Item Weight: 1 kg 810 g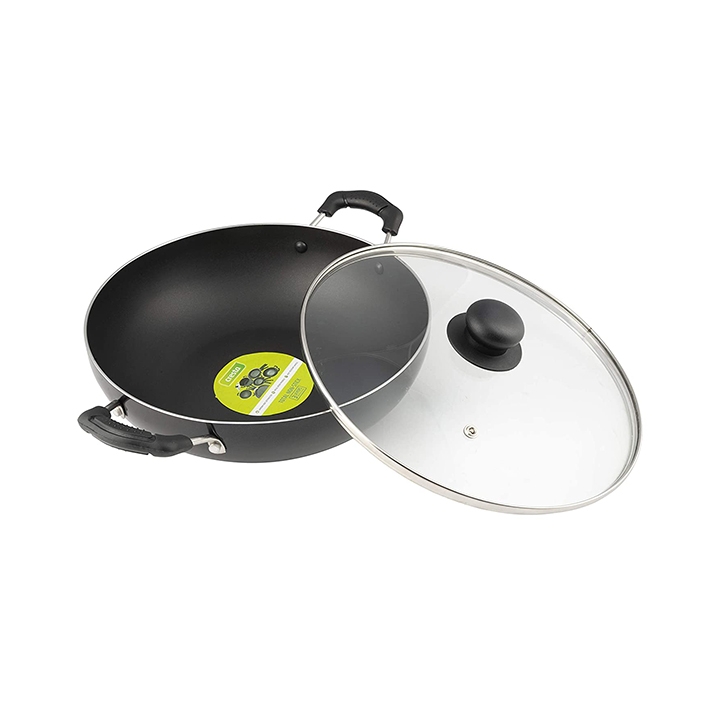 Cresta Flat Base Kadai is made using aluminum.
Non-stick surface is made using 3-layer greblon coating
Needs less oil for cooking.
Specifications:
Brand: Cresta
Material: Aluminium
Color: Sparkle Black
Item Dimensions LxWxH: 30 x 10.8 x 35.6 Centimetres
Has Nonstick Coating: Yes
Warranty: 1 Year
Item Weight: 1 kg 840 g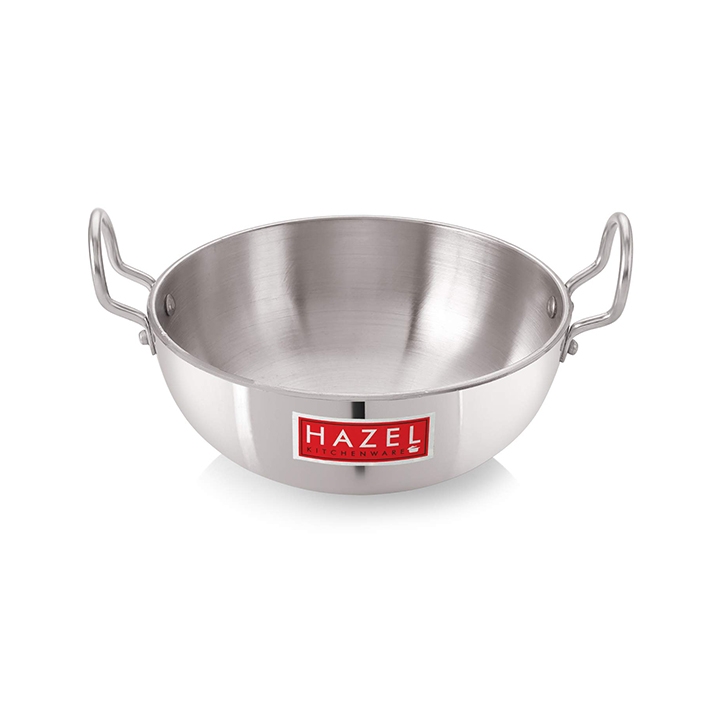 Hazel Kadhai is made using 4mm thick aluminum which can be used for deep frying food.
It has a classy finish.
Specifications:
Brand: HAZEL
Material: Aluminium
Color: Silver
Item Dimensions LxWxH: 23.5 x 18.5 x 7.5 Centimetres
Capacity: 1125 Millilitres
Item Weight: 555 g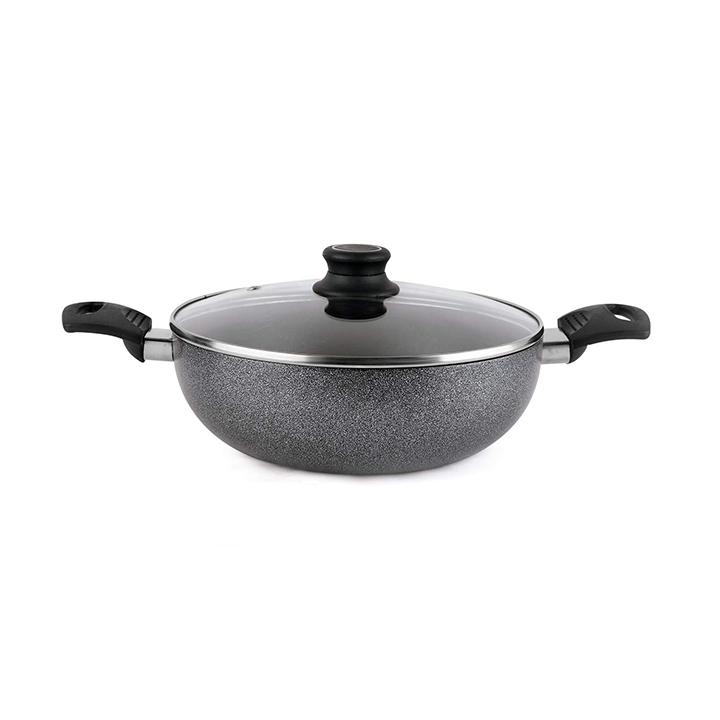 Cello Kahdai is made using pure grade aluminum and comes with a glass lid.
The non-stick coating requires use of less oil.
It has a sleek design
Specifications:
Brand: Cello
Material: Aluminium
Color: Black
Item Dimensions LxWxH: 36.5 x 27 x 12 Centimetres
Capacity: 2.5 litres
Has Nonstick Coating: Yes
Item Weight: 3 g
Warranty: 1 Year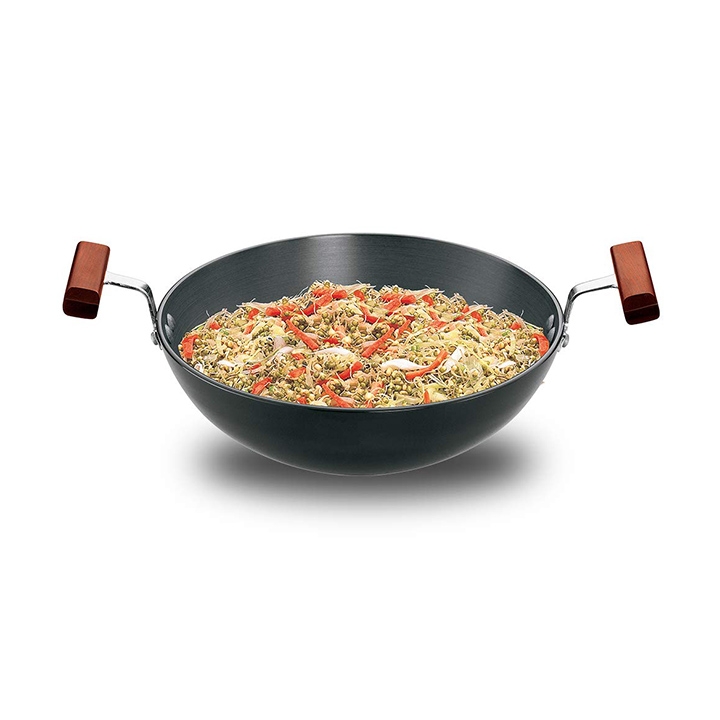 Hawkins Futura kadhai is made using hard anodised material that doesn't get spoiled by heat.
You can cook acidic food on it as there are no non-toxic chemicals that can leach into food.
Good build quality.
Specifications:
Brand: Hawkins
Material: Hard-Anodized Aluminum
Item Diameter: 22 Centimetres
Color: Black
Item Dimensions LxWxH: 31.4 x 22.8 x 11.2 Centimetres
Capacity: 1.5 litres
Warranty Information: 5 Years
Item Weight: 930 g
Sumeet kahdai is made up of stainless steel and comes with a glass lid.
Good build quality.
Specifications:
Brand: Sumeet
Material: Stainless Steel
Color: Steel
Included Components: 1 Kadhai With Glass Lid
Special Features: Induction Bottom
No of Pieces: 2
Item Weight: 1 kg 910 g
Best Kadai in India 2021 – Buying Guide & Tips:
Some of the points to remember while purchasing a kadhai are as follows:
1. Capacity:
Get a larger kadhai if you have a family. For medium or smaller families, medium kadhai would suffice.
2. Material:
You can find kadhais available in the following materials:
i. Cast Iron:
It has good heat conduction and retention potential. If you keep them seasoned, they will be just like non-stick cookwares with the only difference being their weight. They are heavy and need to be regularly seasoned but best for health. They last for a lifetime when maintained well.
ii. Stainless Steel:
The high-quality stainless steel resists corrosion and can be used on a gas cooktop as well as an induction cooktop. They are lightweight and heat conduction characteristics are not as good as cast iron because of which food might get burnt. They are dishwasher friendly and durable too.
iii. Plain Aluminum and Hard Anodized:
Aluminum resists corrosion and is cheap. Those which are not hard anodized might react with acidic food and leach into it which is not good for health. So better to opt for hard-anodized aluminum ware even though they are expensive. Plain aluminum has less durability since it might easily get scratched. But hard-anodized aluminum is durable and has nonstick characteristics also. You can't use them on an induction cooktop.
iv. Copper:
It has the best heat conduction and radiation characteristics and is expensive. So this rapid heating and cooling will be advantageous just for some types of cooking and baking only. They are oven friendly but must not be used in very high temperatures over 450 degrees cooking.
3. Type of Handle:
Kadhais come with short and rounded handles or long and straight handles. It is easy to use the short and rounded handles as these are on both sides and ensure better grip.
Those with longer handles are better to cook a limited amount of food as this is easy to handle, hence it is better for smaller families.
4. Induction Friendly:
Kadhais should be induction friendly to make sure that you are still left with an option to cook when you run out of gas accidentally. Cast iron and stainless steel are compatible with gas as well as induction but aluminum is not. But there are certain aluminum kadhais that come with a steel base to make them induction friendly.
5. Dishwasher Friendly:
If you often wash your utensils in the dishwasher check for this while purchasing the kadhai. If you are getting cast iron kadhai, then these need to be washed by hand. Anodised aluminum and these with nonstick coating should also be better washed in hand because the high temperature of the dishwasher might damage the surface. Stainless steel kadhais are dishwasher-friendly.
6. Easy Maintenance:
Kadhai should be easy to clean and maintain to avoid much trouble. So you can check out for the users who have already used a certain type of utensils before purchasing one to avoid any hassle.
Cleaning an Aluminum Kadhai:
Let the aluminum kadhai cool down after which add some soapy water and leave for a few minutes in case of tough stains. Then use a soft scrubber to remove all the food remnants. Then pat it dry and store.
Cleaning a Cast Iron Kadhai:
Cast iron Kadhai needs to be handled with care. Make sure that you don't let it fall from your hand as it may crack. Let the kadhai cool down completely and then use some warm soapy water and a soft dish scrubber to clean the kadhai. Once all the food remnants are washed off, you need to pat it dry with a clean dry towel till all moisture is removed. And then coat it with a layer of any edible cooking oil before storing it for the next use.
Tips for Caring for a Deep Frying Pan:
Follow these simple tips to keep your deep frying pan safe and make them last long:
If you have cooked acidic food, transfer them into a glass or stainless steel utensil immediately after the cooking is done.
Do not leave the utensil unwashed too long as it will not only become difficult to wash but also any acidic food that might corrode its surface.
Never wash a hot utensil. Because the sudden temperature variation will spoil its coating if any. Always let it cool down first, no matter if it is coated or uncoated utensil.
Do not use metal spatulas for the nonstick or hard anodized cookware as the surface will get damaged. Wooden spatulas are best for these. Silicone spatulas are also available but try to use wooden as they are natural and toxin-free.
Store cast iron kadhais by properly seasoning them with oil to prevent oxidation. Hence they can remain rust-free till the next time you cook in them.
If you have stackable kadhais, always place a liner between each of them to ensure that there is no scratching or no damage to the coating.
If you have copper utensils, use polishing paste for cleaning them.
No matter what utensil it is, always try to hand wash them for maintaining their shine and making them last longer.
Always use a metal safe detergent if you always use a dishwasher for cleaning the utensils.
Kadhai of which Material is Best for Health?
Cast iron kadhai is best for health as there it releases iron into your food which is a healthy addition.
All aspects of various types of kadhais have been fully covered. So, it will be easy for you to easily choose the best kadhai for your cooking requirements by following our buying guide and listed out products.
Frequently Asked Questions (FAQ's)
Q. What are the commonly available materials for frying pan?
Ans: Aluminum, cast iron, Teflon coated pans, copper, and stainless steel are the commonly used materials to make kadhais.
Q. Which material uses the least oil for cooking?
Ans: People consider that non-stick cookwares use the least oil for cooking or deep frying but the fact is that if you use a cast iron kadhai and keep it properly seasoned, it will even act better than a non-stick pan and can deep-fry food in very little oil.
Q. Is stainless steel safe for health?
Ans: Yes, when you use good quality food-grade stainless steel, it is safe for health. If it is evenly thick, heat distribution occurs well, and also it doesn't corrode after multiple uses.
Q. Are non-stick kadhais safe for health?
Ans: If you are not heating food to high temperatures and the non-stick coating is of good quality, it is safe. But at high temperatures, they will start disintegrating, posing long-term health hazards.
Q. Are kadhais with granite coating better than general non-stick coating?
Ans: Granite-coated utensils usually have a stainless steel core and are coated with glass on top. Porcelain enamel is fused into it at 2000 F which creates a non-sticky glass finished surface that is non-porous. Technological advancements have resulted in lighter granite coatings.
Make sure that these are free from PTFE and PFOA to be safe. Coming to Teflon coatings, even though they have a similar look, generally chemicals are used which are unsafe.
Q. How to check if a granite coating is intact or broken?
Ans: To check this, try to fry an egg on the surface. If the layer is intact, the egg will get fried easily, or else it will stick. If the latter happens, it is time to stop using the utensil.
Q. Is it safe to cook acidic food in cast iron cookware?
Ans: This is not recommended but occasionally you can do it in a well-seasoned cast-iron pan. AS soon as the cooking is done, transfer the ingredients to a glass or stainless steel bowl to avoid any reaction.
Q. Are riveted or rivetless kadis better?
Ans: Riveted kadhais are very sturdy but there are chances of bacterial build-up that can be prevented by thoroughly cleaning them.
So rivetless kadhais are the best as they have great strength and durability and there are no chances of bacterial build-up due to the accumulation of food particles.
Q. Does the Kadai base thickness matter for deep frying?
Ans: Yes, a thicker base is usually preferable. Generally, the kadhais have a gauge of 10-22 thickness.
Recommended Articles:
Related Posts: