Indians are always known to be tea lovers but coffee has also been a long time favorite of many. The introduction of coffee maker machines made it easier for coffee lovers' to have coffee from freshly brewed coffee at home. Earlier, the process of brewing took a very long time, through the process of grinding, roasting, and filtering. The amazing coffee machines have simplified all of these. We will be having a quick look at the various kinds of coffee beans as well as the best coffee machines available in India, in this article.
Why do you need a coffee maker machine?
If coffee is your most favourite beverage and you do not have enough time to visit a coffee shop to have a cup of amazing perfectly brewed coffee, then you must invest in a good coffee maker machine. In case you already own one, you may need to replace it with a new model if it is an old model or has broken parts that can't be repaired.
For example, if the heating element of the coffee maker is not working properly, the temperature won't be controlled well, which will have a significant impact on the flavor and taste of the coffee. So you need to keep an eye on the functionality of the machine and replace it once you find it becoming inefficient.
7 Best Coffee Makers in India
1. Morphy Richards Fresco Espresso Coffee Maker (Black)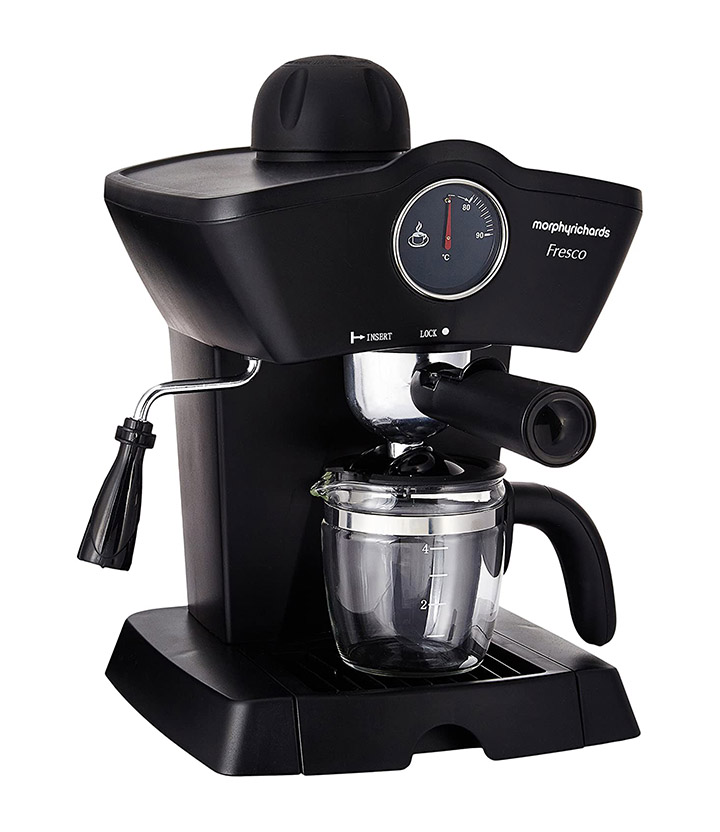 This is a powerful coffee maker of 800-watt which helps you in making delicious coffee in very less time. It has a dial that shows the temperature. The machine allows you to select the strength of the coffee based on your taste, using the coffee strength selector option.
Despite this efficiency, it doesn't consume much electricity. You can have 4 cups of rich frothy Cappuccino using this machine as it is installed with a Turbo Cappuccino Nozzle. The machine comes with a glass carafe for collecting the coffee. The glass not only looks attractive but is also resistant to heat. Since it is transparent, it helps in knowing the amount of coffee you exactly need for a cup. It is a great product for use at home as well as in the office.
Rating: 4.5/5
2. Philips HD7431/20 Coffee Maker (Black)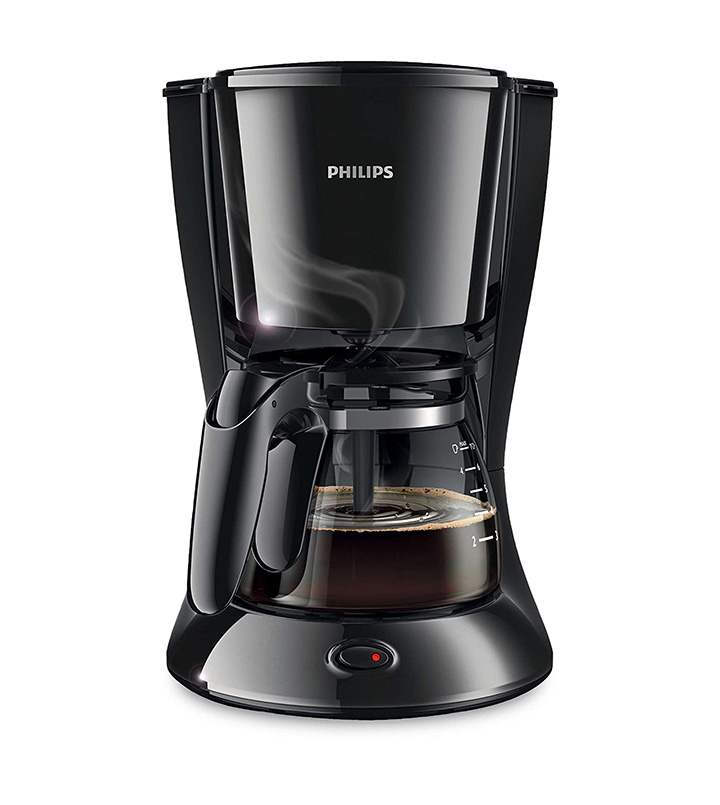 This coffee maker has a compact design and is just 0.6 Litre. It is available with an aroma twister which helps in evenly circulating the coffee, resulting in a great taste till the last cup. You can easily get 2-7 cups of coffee in one go. It can be kept anywhere in the kitchen or office since it doesn't occupy a large space. The machine also has a water level indicator which lets you precisely fill the water tank.
Rating: 3.2/5
3. Black + Decker BXCM1201IN Drip Coffee Maker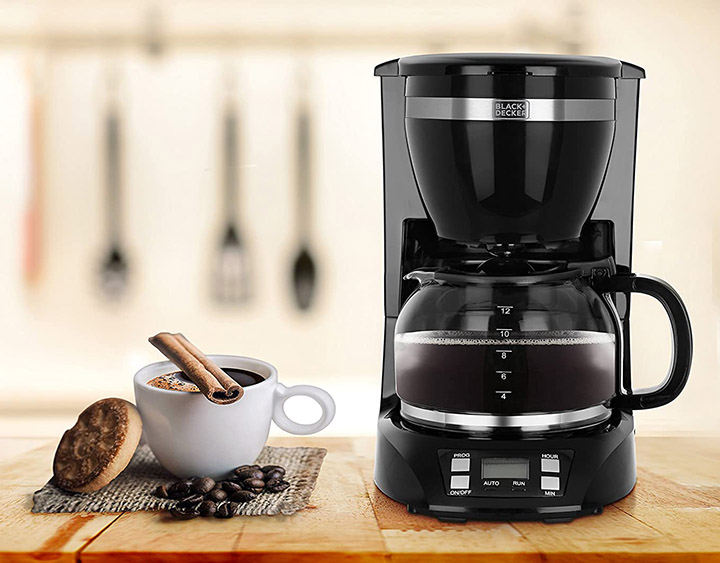 This coffee maker comes with a digital display, having 4 functions. It has a digital display with 4 Functional options with which you can control the brewing process to get the type of coffee that you love.
The permanent nylon feature in the machine enhances its life span because its durability is high. The glass carafe has a capacity of 1.5 L that is equivalent to 12 cups of coffee with a rich aroma and amazing taste.
Rating: 4.3/5
4. 3d Creations Coffee Machine (Black)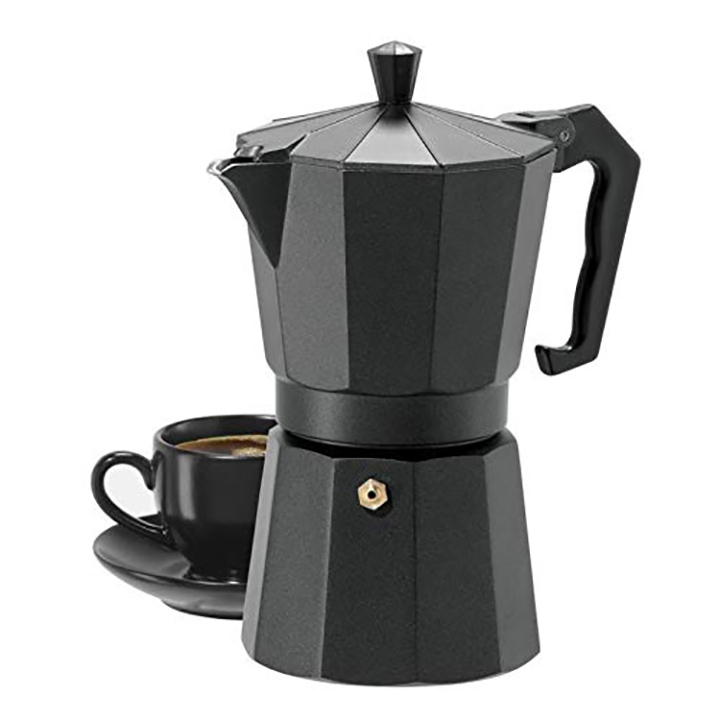 This coffee machine has a classic appearance because of the Aluminium material used for making it, with a matte finish. The interior of the carafe is nonreactive, so there won't be any unwanted odours when coffee is kept in it for a longer time. It has a good built with a handle that can be held comfortably. You can make 6 cups of coffee with it at a time.
Rating: 3.7/5
5. Tecnora Espresso and Cappuccino Coffee Maker
This is a powerful coffee machine which is quite functional and has a compact design. There is an Electromagnetic Solenoid pump of 15 bar for extracting flavor. The efficiency of the boiler is impressive because of its 1050watt power. This helps in ensuring better consistency of steam for causing the milk to become frothy.
So you can enjoy a creamy cappuccino with this device. It has a single boiler thermo block that prevents the coffee from getting burnt, by setting the right temperature. You can make one cup of coffee at a time.
Rating: 4.8/5
6. Preethi Cafe Zest CM210 Drip Coffee Maker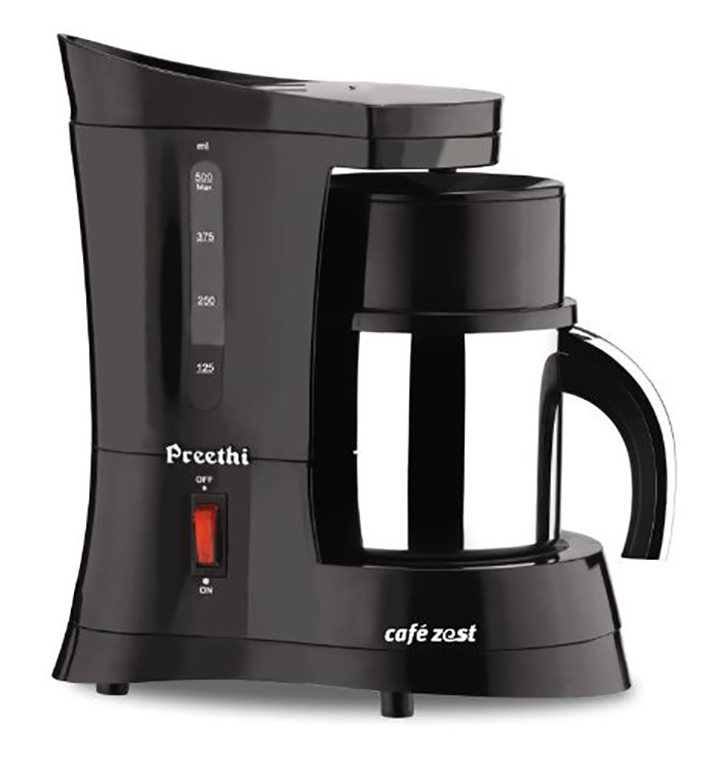 This coffee maker helps in quickly brewing coffee because of the 450 W heating element in it. You can get a fine decoction through the Microfine Filter. It is also equipped with a heat-sensitive thermal fuse that helps in controlling the temperature accurately and safely. It has a chrome handle that has an ergonomic design for ensuring complete comfort. This drip coffee maker is a perfect device for you when you are in a hurry, but badly need a good filtered coffee at the right temperature.
Rating: 3.5/5
7. Nescafé É Smart Coffee Maker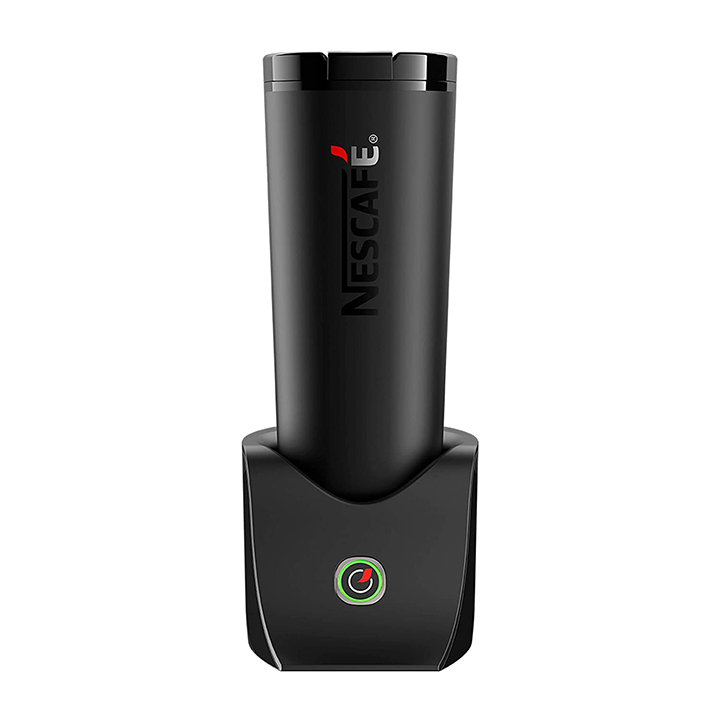 If you are a frequent traveler and coffee lover, then this is the perfect device you must have. It is the first such device that can be operated using an app to make hot as well as cold coffee. All you need to start enjoying personalization in this device is to pair your phone Bluetooth with the NESCAFE E Connected Mug App.
Rating: 3/5
Coffee Maker Machine Buying Guide in India – How to Buy the Right Coffee Maker Machine?
1. Coffee Maker Machine Size:
A larger family needs a coffee maker machine which can make more coffee cups at one go. In case you have a nuclear family or you stay alone, there is no use of getting a machine with a larger carafe size.
If you have a small home, you can get a compact device and if you have a spacious kitchen, a bigger one would also fit easily.
2. Thermal Carafe:
This feature is important when you want your coffee to remain warm after preparing it so that you can have it later.
3. Options to Control The Coffee Strengths:
If your family members have different taste for coffee, then you need to buy a machine which offers options for controlling the flavor and strength instead of just making a standard cup of coffee.
4. Know The Right Brewing Time:
On the basis of your preference for coffee flavors, the brewing time varies. So you need to go through the manual and understand this well, for getting a perfect cup of coffee with the right balance of flavor.
5. Easy Maintenance:
The device should be easy to clean and should have removable parts. If the maintenance is difficult, then a lot of time has to be spent on it. Thus you will lose interest in using the machine again.
6. Inbuilt Grinder:
This is needed for those who want to have coffee from freshly ground coffee beans. Such a device prevents you from making the additional investment to get another grinder saves and saves space too.
7. Auto Shut Down:
In the hustle-bustle of life, it often happens that we forget to turn off a device before leaving home. This feature ensures that the machine doesn't get damaged because of overheating, and it saves electricity bills too.
Coffee Bean Varieties:
1. Arabica:
This is the most common variety of coffee in the world and constitutes 60% of the total production. You can find a multi-layer aroma and flavours in high-quality Arabica coffee. Always opt for those with full body and less acidity when you intend to brew them at home. It tastes best when brewed with drip coffee or pour-over method and served hot.
2. Robusta:
If you love cream and sugar, this is the variety you should try. Unlike Arabica, this variety is resistant to diseases and is also a widely grown variety. The caffeine content in this variety is twice that of the Arabica variety.
You can find a smooth texture and low acidity, with hints of chocolate in the high-quality Robusta beans. Check the way in which the Robusta coffee is grown, written on the coffee bags, to ensure the best taste and avoid a flat taste.
3. Liberica:
This variety of coffee beans has a larger size compared to others and is the only one to be available in an asymmetrical shape. They are known to have an aroma that is unique because of the floral and fruity notes.
4. Excelsa:
This is considered to be a genus of Liberica and comes in an almond shape. It is used for enhancing the flavor and complexity of the coffee when used in blends. The light roast results in tart and fruity body flavors.
Consider various factors explained above while investing in a good coffee maker machine for enjoying the best cup of flavourful and aromatic coffee.
Frequently Asked Questions (FAQs)
Q. What are drip coffee machines?
Ans: These are automatic coffee making machines that quickly provide you a cup of tasty coffee when you are busy completing other works in the kitchen.
Q. How long does a coffee maker machine last?
Ans: The life span of the machine varies with the brands and the materials with which its components are made. Besides this, well maintained, and cleaned devices last longer. It is always advisable to opt for the one with stainless steel parts for better durability because plastics do not last long when they are subjected to high temperature consistently.
Q. Are the coffee maker machines known to consume high electricity?
Ans: If you do not drink coffee frequently and use a 750-1500Watt machine, then the electricity bill won't be impacted. But frequently using the machine will cause a spike in your electricity bills.
Recommended Articles: 
Related Posts: